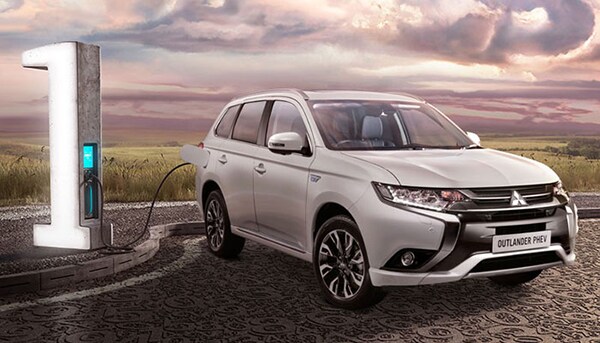 There's More Beyond Driving.
The world's first plug-in hybrid SUV drives like no other car on the planet. Twin electric motors and a highly efficient gasoline engine optimize performance according to how you want to drive. It's freedom. Smooth, quiet, cocooning comfort with abundant power to tackle off-road terrain with highly efficient purpose. Go beyond the boundaries of ordinary driving. There's more to enjoy and discover. 
The Outlander PHEV is the only Plug-in Electric Hybrid Vehicle with Super All-Wheel Control* - ensuring safe, secure handling no matter the road or weather condition.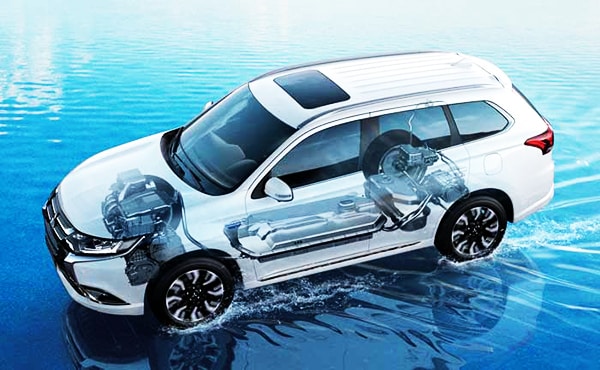 Safety standards for peace of mind.
Technology For All Around Safety.
Advanced safety technology supports safer, more confident driving - on the road and in parking lots, day and night. From intelligent sensors that track your surroundings and warn you of danger to active driving assistance and solid passive protection, the OUTLANDER PHEV delivers all around high levels of safety.
Blind Spot Warning.
This safety feature uses radar sensors in the rear bumper to detect vehicles in your rear blind spots, on the right and left sides. An indicator appears in the door mirror when BSW is active and the turn signals are off. When a vehicle is detected while the turn signal is on, an indicator blinks in the corresponding door mirror and a buzzer sounds.
Forward Collision Mitigation System.
Helps prevent a frontal collision or reduce damage if the collision becomes unavoidable. Responds to vehicles and pedestrians via camera and laser radar.
Automatic High-Beam.
To increase safety, comfort and driving ease at night, the high beams automatically switch to low beams when vehicles are detected ahead and automatically switch back to high beams so you don't have to remove your hand from the steering wheel to switch the beams manually.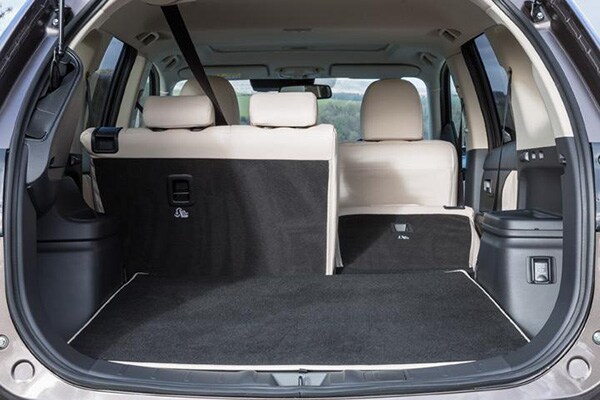 A Plug-In That Packs It In.
A roomy, comfy interior with 2,208 L (78 cu ft.)* of cargo space that lets you stretch your legs and your mileage.
Storage cubbies abound, including large door bins with integrated bottle holders, two cupholders ahead of the gearlever, a useful storage tray for a phone and a front centre armrest with an integral storage compartment.
The boot is a decent size, offering similar levels of space to rivals. The second row of seats fold completely flat, and with them all down there's a vast amount of load space.
The Outlander's flexible seats make it an ideal choice if you're looking for a practical SUV. The second row splits in a conventional 60/40 fashion. As a result, you can keep some seats in position if you're loading longer items in the vehicle, or drop all of them flat to create a huge load bay. The rear seats also recline. The front passenger seat also folds flat, which might come in handy for those longer loads.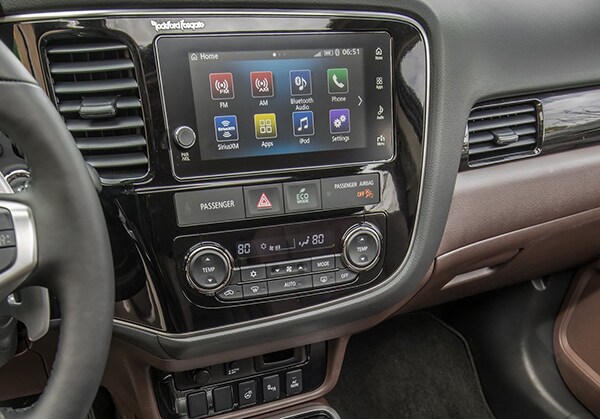 2018 Mitsubishi Outlander PHEV
Plug-In Efficiency. SUV Flexibility.
Get comfortable in the inviting and intuitive interior while the Outlander PHEV automatically selects one of three driving modes - pure electric, series, hybrid or parallel hybrid mode.
Climate Control.
Control temperature of the Outlander PHEV remotely from your smartphone. Enjoy a pre-cooled ride on hot summer days and get a head start on winter defrosting.
Take Comfort In Being Connected.
Premium leather seat surfaces, a large 7" LCD screen and Smartphone Link Audio Display help you get comfortable and connected in the Outlander PHEV. Plus you'll enjoy full control of your level of regenerative braking with paddle shifters right at your fingertips.
More Power To You.
The available 120V AC outlets inside the Outlander PHEV power your electronics on any trip. So you can keep your cooler cool, air pump pumping, and coffee maker percolating wherever you go.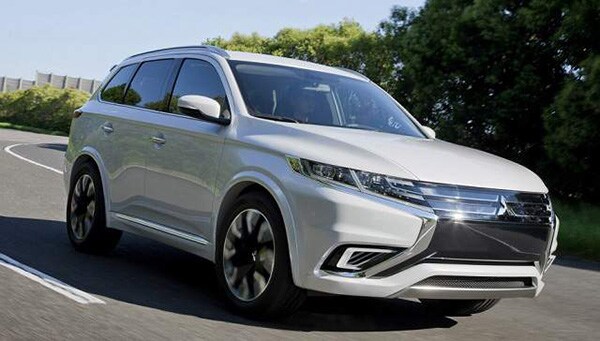 2018 Mitsubishi Outlander PHEV
The Low-Down On Charging Up.
Level 1 - Anywhere, Anytime
Your home is your charging station. The Outlander PHEV can be charged from any regular 120 volt household outlet. The provided cordset comes with an 8-amp setting. But the cordset can also draw 12-amps when using a dedicated fuse circuit to provide a faster charge.*
Level 2 - A Little Extra Juice
A 240 volt level 2 charger plug will provide you with an even quicker and more powerful charge than a regular 120V AC outlet.**
Quick Charging - DC Charging
The Outlander PHEV is currently the only PHEV on the market that allows DC quick charging, which provides up to 80% of a full charge in approximately 30 minutes.** 
Battery Charge Mode
Charge on the go. By pressing the Battery Charge button, the engine-powered generator charges the main drive battery while you drive.